No What's It To Hue? Tuesday today. I am on vacation on the shore of south New Jersey. We have had fantastic weather and I am grateful for the time to relax! I have been having a wonderful time working on my bead soup! (sneak peek!)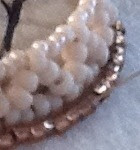 And there is a wonderful bead store a few miles from here that I am going to hit one day this week!
From what I understand, plenty of people felt the earthquake here in Jersey. I was in the ocean when it hit and didn't feel anything! Did you?
- Posted using BlogPress from my iPad